Hello Community Fam, 

We hope you're having a fabulous start to the week! As for us, we love nothing more than a delightful and transformative customer story alongside our cuppa to begin the day with. And what better than sharing that joy with all of you. 

Let's begin with some backstory. 
 
Collinson Group, a UK travel experiences and insurance company, is a global leader in customer benefits and loyalty. They deliver exceptional travel assistance and insurance products with differentiated value propositions, and loyalty solutions that win deeper, more valuable customer relationships.

In late 2019, the Collinson group begun their digital transformation journey with Freshworks to improve the efficiency of customer interactions and bring services to market quicker. The main goal was to eliminate data silos, automate operations, and shift to a consumption-driven model. 
 
This was made possible with Freshdesk's omnichannel engagement solution and its seamless integration with Amazon Connect's cloud contact centre.

Fast forward a few months - the pandemic hit, turning everything upside down. Disruption in the travel industry prompted a new business requirement for Collinson Group.

Not only did they have to react to fast-changing business and travel requirements caused by the pandemic and service a 50% surge in new enquiries, but also had to begin offering COVID-19 testing facilities at partner airports.

With the support of Freshworks and AWS, Collinson leveraged the expertise of its medical assistance division to introduce airport testing and had facilities up and running in three weeks. Its system now handles 1,200 testing-related chats per day across 13 testing sites in the US, the UK, and the Asia-Pacific region. 

Here's what Chris Barrow, Solutions Architect, Collinson Group had to say: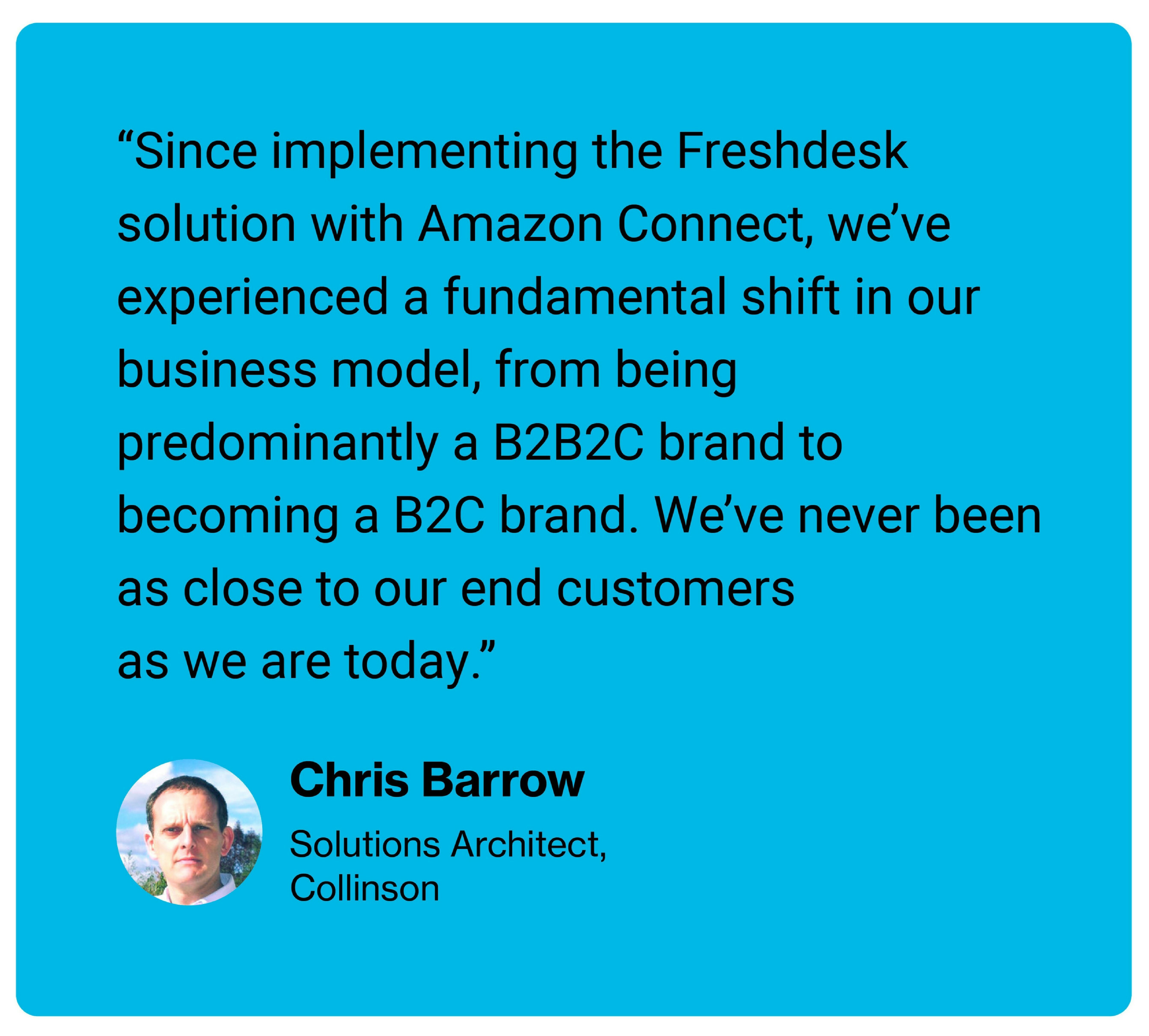 Stories like these make our day. 😊

You can read the full case study here to learn about how Amazon Web Services partners with Freshworks. We would also love for you to head on to the Freshworks Marketplace and check out the Amazon Connect and Freshdesk integration for yourself.

And as always, our comments section is open for your questions, feedback, or even to just pop by and say hello.
 
Until next time! :)