I've created a Freshdesk rule that sends a reminder to the requester after 72 working hours if the status is Pending - it also sets the status to a custom one.
I'd like to create a further rule which then sets the ticket to closed if a response is not received after another 72 working hours. However, the "hours since..." conditions don't seem to include the custom statuses I've made.
Am I doing this right or is there a better way of achieving this?
Best answer by Keer 26 January 2021, 18:18
Hi @Woreill, 
As far as I know, you would also be able to see the hours since <custom status> as below: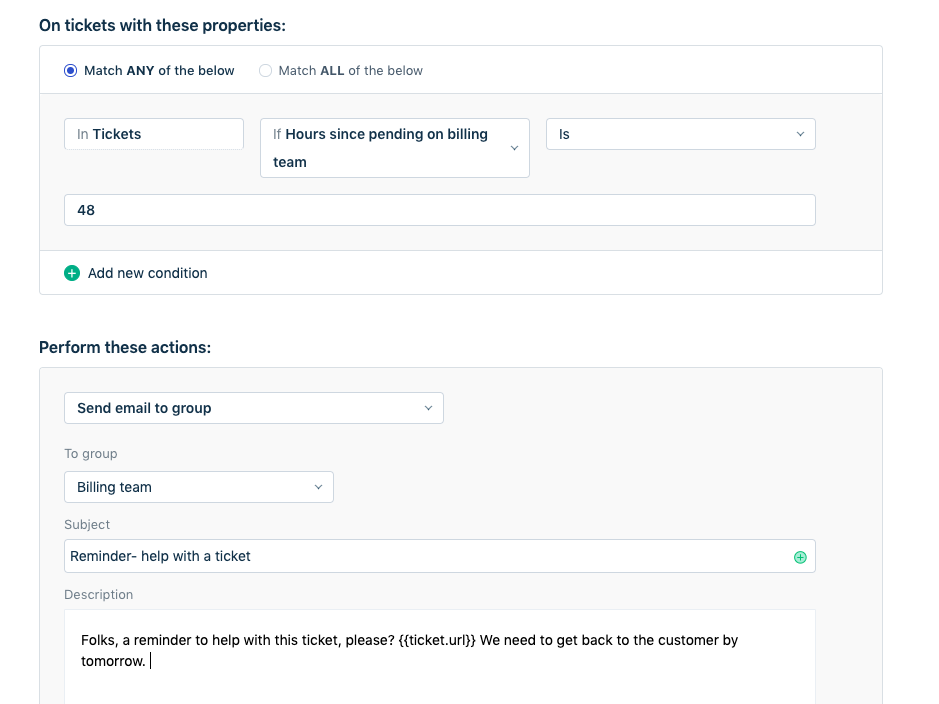 Could you share a screenshot if you are not able to find so that we can check this further? Alternatively, you can also include the details and drop a mail to support@freshdesk.com and our support buddies would be glad to assist you further. 
Also, you can achieve the same scenario using another rule. I have just added it below and you can use it if it fits your usecase. 
Since the number of hours would be 144 (72+72), you can set up a rule time trigger rule like:
In tickets, if hours since agent responded >144 and Hours since agent responded <146 and 
Status is <include the custom status>, then Close the ticket. 
You can also add a tag as an action, say close the ticket and add a tag 'closedbyautomation' so that it would be easier for you to filter such tickets. 
I hope this would do the trick. Let me know if need help in setting this up. 
Cheers, 
Keer, 
Freshworks Community Team. 
View original