Hello,
For some time we've implemented a First Response system using the webhook option from the Automations section.
Today I realized that by using the Reply method, the ticket is receiving a simple reply and not a reply all.
Most tickets have a list of mail in the CC field.
Once the rule is executed, only the address from the FROM field is used and the others are ignored.
For example:
After rule execution: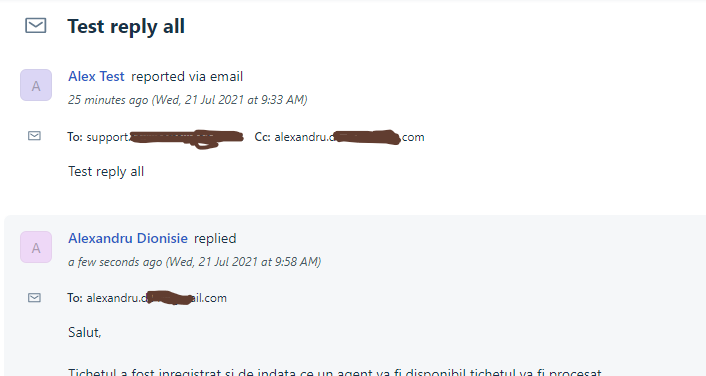 A normal reply from the platform would look like (and this is what I want via API)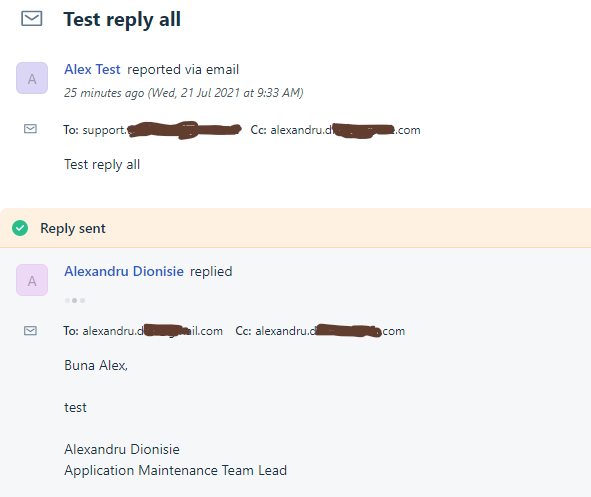 The setup looks like this: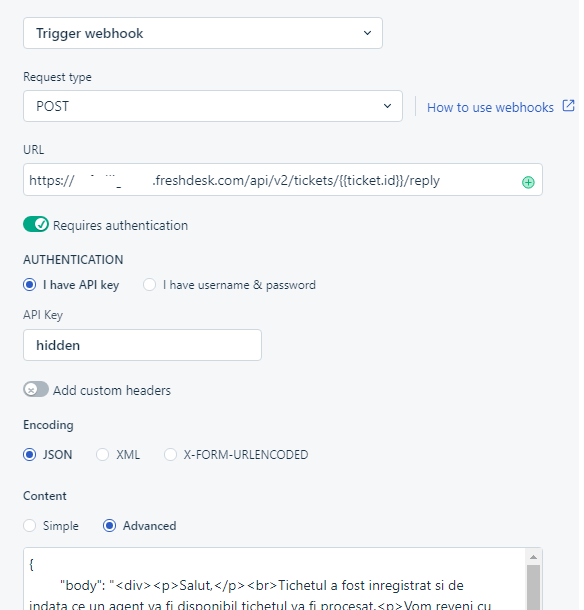 Looking through the DEV console I see that when the Reply button is pressed a reply_template API is called, but I can't use it because I get a message regarding access not permitted.

Is there a way to simulate a reply all behaviour?
Thanks in advance,
Alex
Best answer by Keer 22 July 2021, 09:27
Hello @AlexD, I hope you are doing well today. I see you are using the reply API to send the first response in the ticket and in the webhook, you've added the body of the response. By default, the reply would be sent only to the 'requester email' of the ticket and not to the emails cc'ed when you use the reply API.  
Also, you'd see an error when you try using the reply_template API in the network logs because that isn't a public API. 
I believe you are sending the acknowledgement message via the webhook as the first response. Please correct me if I am wrong. If that's the case, you can enable the CC ticket created notifications in Admin > Email Notifications > CC notifications > New Ticket created. You can edit the content and use the placeholders to draft the email sent to Cc'ed addresses. 

By doing so, the acknowledgement for the ticket would be sent to the requester by the webhook you'd configured ensuring the first response metric doesn't take a hit and the cc'ed members are notified as well by the default CC notification settings.  
I understand it isn't a direct workaround but do you think this would be helpful? Let us know your thoughts on the same. Have a good day :)
View original