Hi guys, 
We are a MSP company, and we have so far 5 customers with us, we used to use Zoho Desk, but we switched to Freshservice because it was more an ITSM, and because it had a mode to isolate every client with its own rule set, but now it seems it wasn't like that.
I have doubts on how the Multi Accoun MSP Mode is billed, the guide states: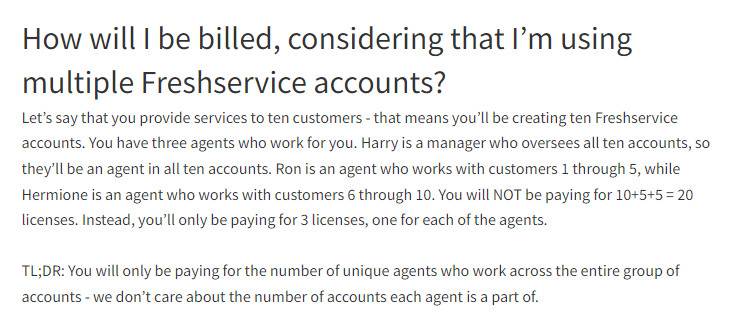 And as far as I understand, If I Payed for lets say 4 agents, and I create 5 accounts, I Will not need to pay 20 Agents, but only 4 right?
but here is where it gets tricky, the guide later says:

Now I would need help understanding this, because, I would believe that with those 4 agents I payed, I can have the other 5 accounts and work perfectly fine without paying anything else. (remember always that this would be in Multi Account MSP Mode)
But, the accounts are trial, and when the trial expires, the account and all of its data gets deleted, so, how does this work? Do I need to pay more? Did I do something wrong?… I mean if in order to have my agents I've got to pay again in the sub accounts, then what is the Multi Account Configuration for?
Do you have this working out for you? how? I'm afraid I'll lose a configuration and data because of this