Hello together, 
we currently working more and more with the Workflow Automator and want to set up some workflows for service requests where an approval mail is sent automatically.
Here we stumbled across the option for Service Request Fields in the "Send Approval mail to"- Action .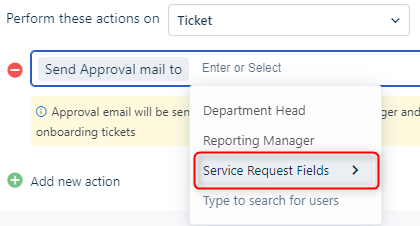 When clicking on that a new window "Custom Fields" appears, allowing to search for Service Items. However, regardless of the selected item, no Fields were found. We also created a Service Item called test and added every available custom field to it, but also for this item no Field is shown in the Send to Workflow Action:

Does anyone know what this option is used for?
Thanks