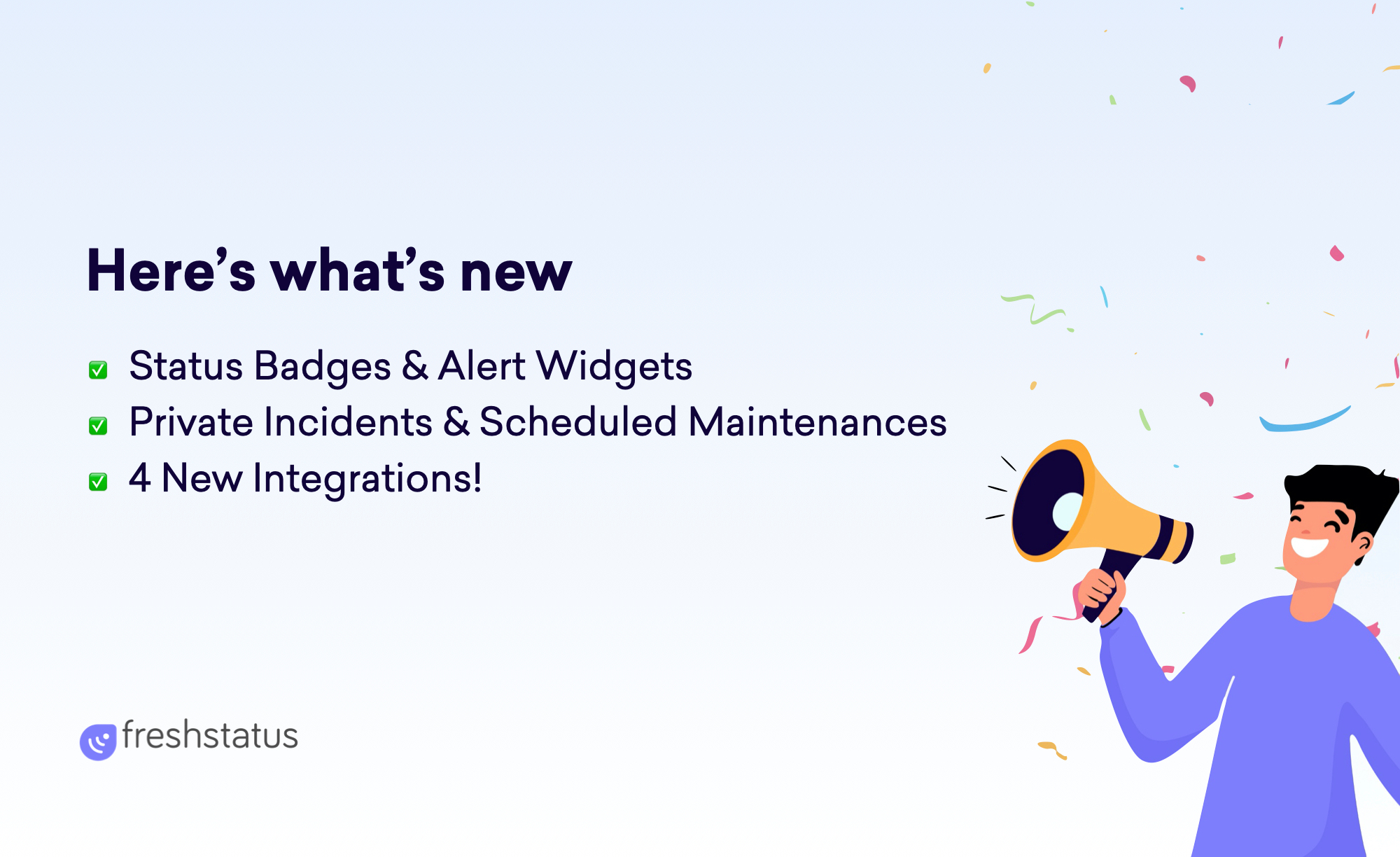 Hi There!
Just a couple of months ago we brought more customisations to your Status Page. We are back again with some more exciting features. From embedding status on your website to creating private incidents, we are bringing you the best.
Show uptime status info directly on your website:
Add a Status Badge anywhere on your webpage to smartly display your site's current service status. Choose from over 3 badge styles! 

With Alert Widgets you can add banners that appear on your website as soon as you make a new incident or schedule a maintenance. 
Communicate within your team with Private Incidents
Private Incidents & Maintenance - We know some incidents are for your internal teams only and do not need to be broadcasted to all subscribers. Now you can create Private incidents that can be used to log & track such incidents efficiently. Private Scheduled Maintenances too!
Enhance the power of Freshstatus with these 4 NEW Integrations! 
Webhook - Developers rejoice! Webhooks integration enables you to easily push incident data to any other application you wish to integrate with.

Freshdesk -  Integrate with our leading Customer engagement software, to ensure seamless communication with your customers at all times.

Freshservice - Our powerful ITSM software that integrates with Freshstatus to create tickets automatically when a new incident is made. Reduce your service desk's SLA times and improve efficiency.

Public API*: Freshstatus is now open and flexible. Our open API lets you connect directly with any of your platforms and solve your specific use case. The possibilities are endless! 
* Public API is in the works. We are ramping up our infrastructure & app to support this feature flawlessly. It will be released next week
Regards,
Team Freshstatus