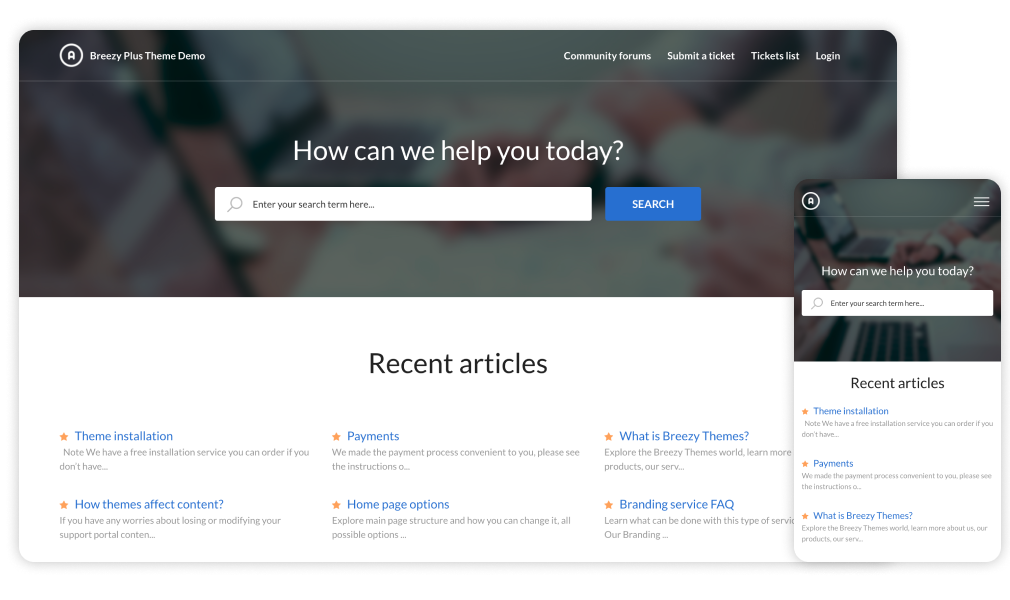 Breezy Plus is a custom Freshdesk theme that combines the best practices of Freshdesk customization. Apart from standard features, it also has side navigation for more comfortable portal usage, categories with icons on the homepage, prev/next buttons for getting to the next and previous pages, and custom links in the header and footer.
Theme Features
Side navigation. Show categories, folders, and articles on inner pages.

Prev-Next buttons. It adds buttons at the end of articles, which forward to the previous

Article formatting components. Make your articles more attractive and easier to read with Tabs, Accordions, Callouts, Tables, Lists, Videos, and other options. 

Responsive and Retina-ready. All our Freshdesk templates look great and work properly on all devices.

100% compatible with all Freshdesk features. The theme has been tested thoroughly to ensure that every Freshdesk function is fine-tuned and brings the highest level of performance to your customers.

Customizable homepage. Change the hero image and mix layout elements like category views and recent articles. 

Customizable colors.
 
Branding and Customization
If you want the Breezy Plus theme to look identical to your website, you can do it easily with CSS and HTML, or we can do it for you with Freshdesk Branding.
If you'd like to add more changes in design and functionality, the Breezy Plus theme is the right choice. It follows the industry code standards, and it's easy to read and modify for other developers. However, if you aren't a developer, let us help you with the Customization service.
Here are some examples of Breezy Plus customization
Explore the best Freshdesk portal designs →
Add More Functionality to your Theme
Freshdesk extensions are ready-made solutions that improve the self-service experience and overcome problems of the default help center.
Table of Contents. Highlight titles of relevant sections as users scroll articles.

Alerts. Inform users with responsive and simple notices.

Status Widget. Demonstrate the status of critical tools and inform your users about maintenance activity or possible outages.
About Breezy Themes
1,000+ companies worldwide have chosen Breezy Themes for their unique design, high level of performance, and ease of use. We are the only Freshworks partner for the design and customization of Freshdesk and Freshservice portals.
Freshworks recommends Breezy Themes to their customers
"Our partnership with Breezy Themes ensures businesses using Freshdesk can create highly personalized customer experiences. Breezy Themes are specialists with experience in building

and implementing custom themes and templates based on customer requirements."

Rajiv Ramanan, Head of Freshworks Marketplace