Important Note - We have updated our software versioning to the following new format:
2021.R09L.01
   X        Y          Z
X- Year of release
R- Release
Y- Month of release
L- Limited release 
Z - # of releases in the month. (This will be incremented after every deployment post limited release)
Where to spot this?
Freshservice -> Admin -> Account Settings -> Account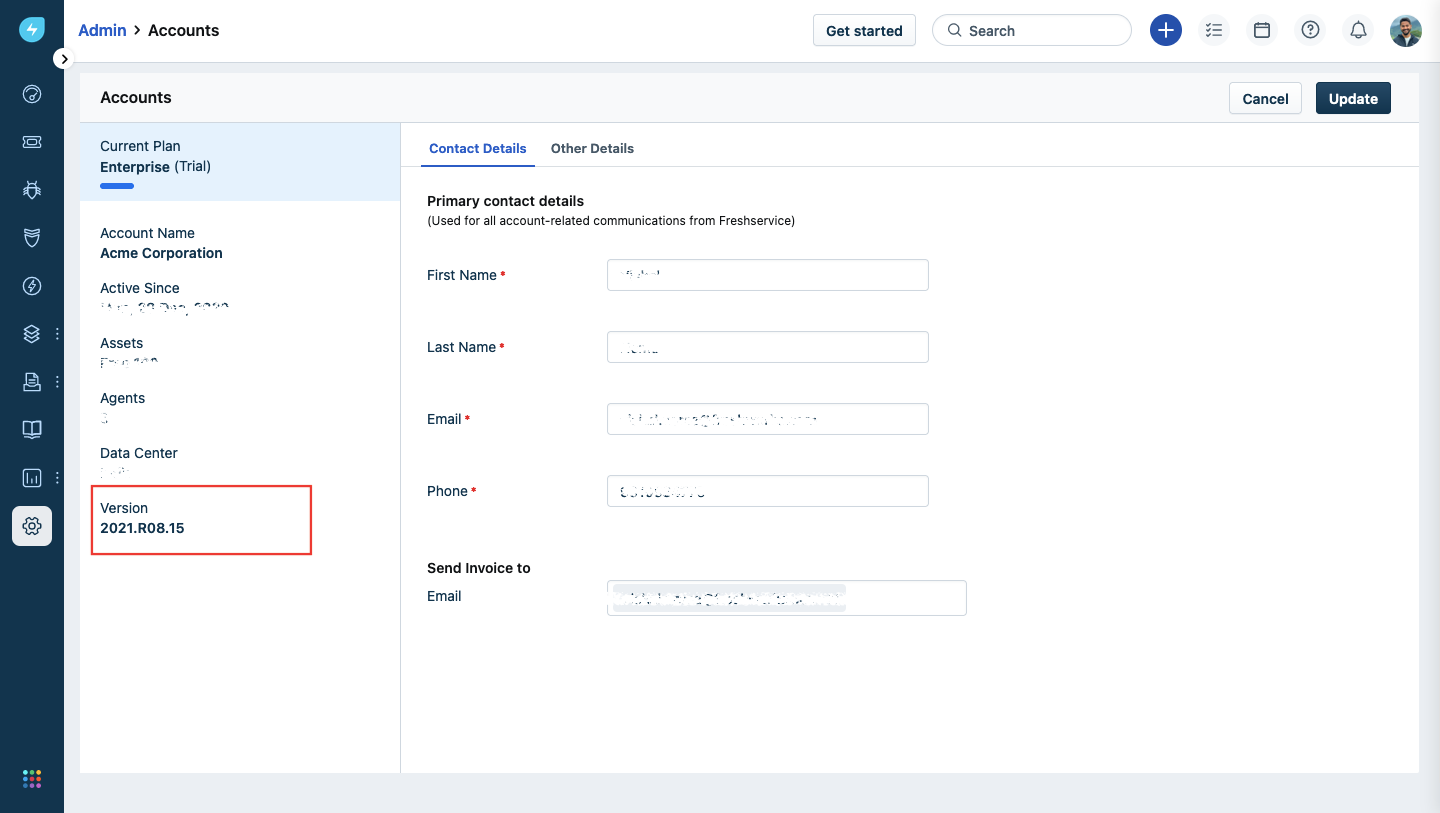 Note: All the features/enhancements below will be available on Blossom, Starter, Garden, and Growth plans on Sep 15th. For Estate, Pro, Forest, and Enterprise plans it will be available on Sep 30th.
Enhancements:
New enhancements in the Change Calendar
Category: IT Service Management
Introducing an enhanced change calendar to efficiently manage your change management process.
Get a more focused view of the changes in the calendar by filtering out based on different criteria. These filter options will be available on the right pane of the calendar page. We are also moving the agent and group fields filter from top navigation to right pane, along with other filter options

Export the filtered change calendar as either PDF or ICS file

Switch between list view and calendar view while running a CAB meeting
Note: If you switch to the Calendar view from an existing Change List view by clicking on "View Change calendar", the list view filters will be applied in the Change Calendar. But if you click on the calendar icon in the top navigation, the filters will be reset to the default conditions of agent as 'me' and change status as 'all but closed changes'.
Introducing the Azure AD SCIM Sync App
Category: IT Service Management
The Azure AD SCIM Sync App is now available!
This app has two main functions:
Create and deactivate users in Freshservice based on rules in Azure AD

Sync all user profile updates from Azure AD to Freshservice
Note: Please follow the steps specified in the "Instructions" tab to install and configure the app.
Virtual Agent Enhancement: @mention your Virtual Agent on Slack Channels
Category: IT Service Management
Introducing the capability to @mention Virtual Agent and get queries resolved in personal messages and slack channels and get immediate responses.
Your organization may have a common support-related public channel on slack where your employees come in and post their questions and issues. Your support agents have to constantly monitor this channel and respond to employee issues. With this new enhancement of on-demand support on slack an employee can directly post on your organization's relevant support slack channel based on the issue at hand and have the Virtual Agent respond with relevant information that enables self-service resolution to your employee issues.
Note: This feature will be available for only Enterprise customers on Sep 30, 2021.
New-Gen Project Management Reporting
Category: Project Management
With project analytics enhancements, users can get a birds-eye view of their multiple projects and portfolios from a single dashboard. 
They can now select "project" as a module to get all project reports. Additionally, they can configure this on all default and custom attributes.
Inside "project analytics", you can now see a "project summary report" that summaries the progress of all projects across the helpdesk.
Purchase Order Reports
Category: IT Asset Management
Managing your IT costs start right from streamlining your procurement processes and managing the costs involved. With purchase order reports, optimise costs and improve process efficiency by deriving insights about:
Current asset utilization 

Order fulfilment statuses

Onboarding the received items

Other Purchase details 
More details here
Relationship map enhancements
Category: IT Asset Management
You can now view the count of open incidents upfront for each asset on the new relationship map. More details here
SNMP enhancements to the Discovery probe
Category: IT Asset Management
Fetch serial number information from SNMP devices

Custom fields configuration in devices.csv to read custom properties from SNMP devices and map them to Freshservice asset fields.

"devices.csv" structure can support Model/Vendor specific OIDs with custom field OID mappings

More vendor/models available in devices.csv
Note: These enhancements will be available by September 30th, 2021.
Enable a 21-day trial for SaaS management in a single click 
Category: IT Asset Management
Get a hands-on experience to discover, manage and optimize your SaaS applications right within Freshservice. Enable a 21-day trial for the add-on from Admin > SaaS management.
Note: This feature will be available on the Forest, Estate, Pro and Enterprise plans by September 30th, 2021.

 
Freshservice Cloud Discovery for Azure and AWS 
Category: Workflows/Automation
Freshservice cloud discovery enables you to sync resources across your cloud infrastructure into the Freshservice CMDB to provide a single pane of glass to view and manage both physical and virtual CIs.
The sync process is facilitated with the following dedicated marketplace apps for each cloud provider.
Cloud discovery will also seed new fixtures for Asset types to store the different types of resources synced from the cloud. Support for more resource types and cloud providers will follow soon.
Note: This feature will be available on Sept 30th, 2021.
Associated Assets in Workflows
Category: Workflows/Automation
You can now leverage information about the Associated Assets of a ticket, problem, change, or release for your workflows
Note: This feature will be available on Sept 30th, 2021.
Associate assets in:
Condition Nodes: Apply conditions based on the associated asset of a ticket, problem, change or release and take actions accordingly.


Reader node to query information: Leverage information about the associated asset of a record and use it in subsequent actions. For example: When an incident or change is raised for an Asset, the ticket can be assigned to the agent/group that manages the asset and the asset manager can be notified automatically.
Asset Custom Fields support when Reading from Assets : In addition to the default fields of an asset that will be available as part of the Reader output, you will also have granular information about the hierarchy of custom fields for the associated asset in JSON format. Leverage the JSON Parser node to extract the fields you need. For example: Extract type-specific fields for an AWS VM such as Region and Instance ID and use them in an app action to Reboot the instance.



Preview the results of a Reader node : Preview results of a reader for a given filter condition, which will aid you in your workflow configurations.