I am evaluating FreshDesk and generally pleased with what I see. However, I have a use case that doesn't seem to be addressed. It seems like a pretty straightforward situation so I hope this is just me missing something.
A VA at my company creates a ticket (initially for internal discussion).
We work the ticket and come to a conclusion or fix the issue.
We then want to email a customer. We need to track that email in the ticket so that everyone is aware. IMPORTANT : Until this point the customer has had nothing to do with the ticket.
I am stuck on this, as follows...
As I understand, I can't use Reply, since there is no previous communication with the customer so his/her details are not available.
Forward is not an option since that would include the whole (internal) discussion in the email sent to the customer.
I am hoping that someone can put me out my misery and tell me how to achieve this. This would be a very common use case for my small business.
Thank you.
Best answer by Keer 14 July 2021, 16:59
Hi @markwill, for your usecase, you can edit the requester of the ticket and change it to customer's email adderss. 

Now, you'd be able to reply back to the customer in the same thread and they'd be able to view the details in the quoted text as well. If changing the requester of the ticket is not ideal, you can simply cc the customer's email address in the reply. 
You can also start a new mail thread with the customer using 'New Email' option.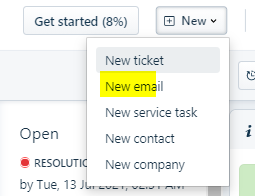 I hope this helps!
View original