Good morning,
Can I make certain customers see only certain solutions?
eg customer A (company XX) has customizations that customer b (company YY) does not have. Can I make it so that customer A can see some solutions related to his customizations and customer B does not see them?
Best answer by Keer 18 June 2021, 13:08
Hello @MBraga, I hope you are doing well today, In this case, you can apply the right filters and save
the companies as a segment to make use of them in the visibility section of folders.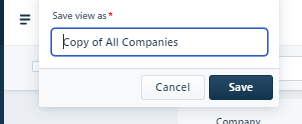 In the folder settings, you can add the visibility as 'Visible to Company segments' and choose the right company segment. You can also segment customers in a similar way and set the visibility of the folder to customer segments. 
You can find more details on setting the visiblity of the solution articles here. If you have further queries, please post them here and we'd be glad to help :)
View original