New Features and Enhancements
Note: All the features/enhancements below are available on Free, Growth, Pro, and Enterprise plans. 
Elevate conversational messaging with SMS
Connect service providers like Twilio with SMS support on Freshdesk Messaging. You can manage all your conversations instantly on the most popular support channel.
More details here. 
Analyze chats with Freshdesk Messaging Analytics
Analyze and augment your chat conversations to understand the types of customer queries and the volume of chat to allocate resources. Get an overview of agent performance based on actual metrics and KPIs with deeper attribution and tailored insights.
More details here.
Keep track of requests with mandatory labels and subcategories
Keep track of the different kinds of requests and messages by labeling conversations. Identify patterns of what your customers are trying to tell you. Based on this information, you can make your product/service better.
More details here.
Implement bots faster with this upgrade
Implement bots faster and improve your go-live time with the clone option on Dialogs. With this option, you don't have to create dialogs from scratch anymore, you can simply clone dialogs that are similar, make the required changes, and deploy. 
More details here.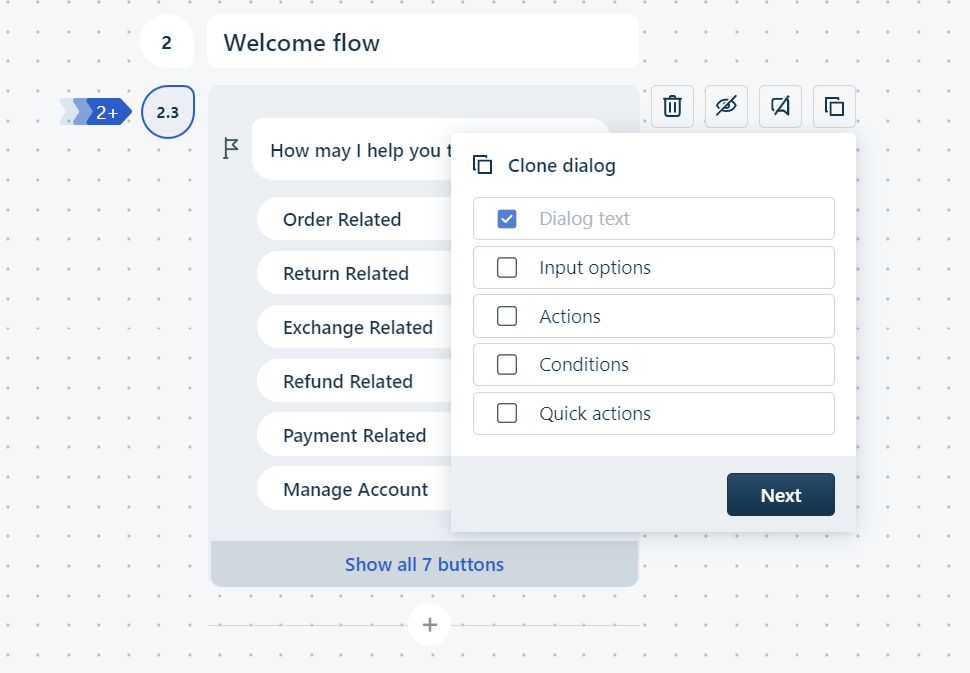 Agent Performance Report enhancements
The Agent Performance reports will now have two columns that record the start and end time. This will help customers segregate and sort the reports easily, especially for those who generate numerous reports in a day.
Enhanced access to user properties
You can now access user properties that have been previously created from the Freshdesk Customer Fields page. To create a new user property from the Freshdesk Messaging interface, click on New Property → New User Property, which will open the Freshdesk Customer Fields page in a new tab.
Bug fixes
These were the bugs detected and they've now been fixed.
For customers on the Omnichannel plan, the default broken image file was displayed for agents who hadn't set their profile picture.

WhatsApp template messages were not displayed to agents for a few chats even after customers had responded to them.

Customers were unable to view images attached to the canned responses.

On the Team members page, customers were unable to close the sidebar by hitting the 'X' button.

An error was thrown for a few customers when trying to execute the chat assignment rule.

For customers who have integrated Freshdesk Messaging with Apple Business Chat and LINE, the order in which the messages were delivered was skewed.

Customers were unable to open the Topic page.

When bulk converting chats to tickets, chats that were marked as 'Closed' were being shown as 'New' tickets on the Tickets page.

When viewing the FAQs from solution articles on the chat screen, the link for the Table of Contents didn't work as expected. 

For Facebook conversations, the customer's profile picture was not displayed in Freshdesk Messaging.

Business hours routing during offline hours didn't work as expected.

Deleted channels showed up in the API response for some customers.

Conversations were not auto-resolved for some customers.

The FAQs viewed by customers were not showing up in the timeline events in Inbox view.

Conversations were displayed as unread in the UI even after read receipts were sent.

Automation failure emails were sent to customers who had scheduled historical reports.

Customers were unable to view the dropdown in Welcome flow when the carousel was configured with more than 25 cards.

Customers were facing issues when setting up conditions in the feedback Opinion poll.

Agents were unable to view the input box in the chat window when the Inactivity Timer was enabled.

Transfer to agent functionality under Conversation settings wasn't working as expected in the Bot widget.

Entity Recognition under bot Flows was not passing the conversation to agents under set conditions.

For customers using bots on WhatsApp, the customer name and phone number were not stored properly on the bot's end.

The function configured to add working dates to an existing date was functioning incorrectly.

Customers had to scroll horizontally to view solution articles in the Answers module.

Custom properties under Deploy page were not captured in the bot conversations.
Cheers!