Note: All the features/enhancements below are live in Blossom, Starter, Garden, and Growth plans. These features/enhancements will be available in Estate, Pro, Forest, and Enterprise plans starting July 29th.
Enhancements:
Business Rules for Service Request Items:
Create and maintain no-code dynamic forms for service items using business rules. Craft your specific conditions based on service item, logged-in user, and requester/requested for fields. We've also improved our condition builder to support relative and dynamic date-based conditions for service requests business rules. 
More details here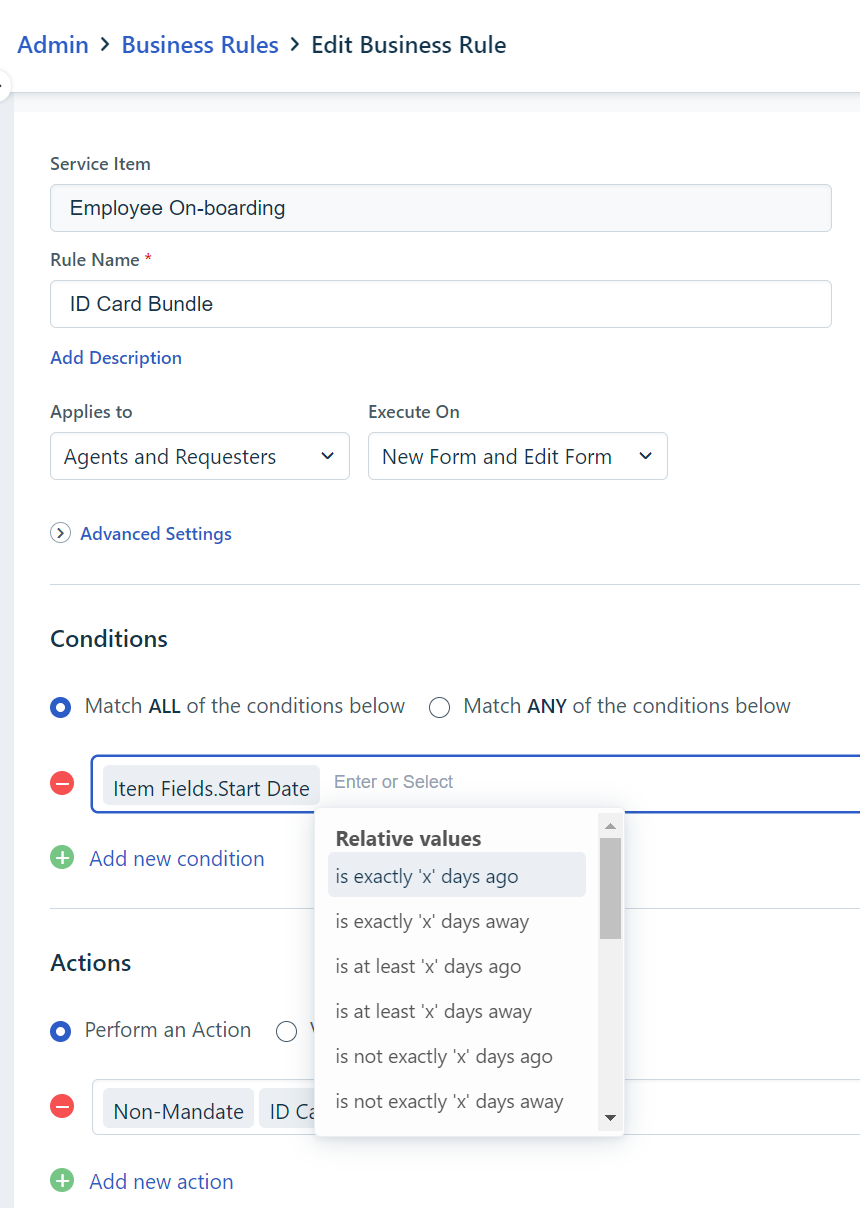 ​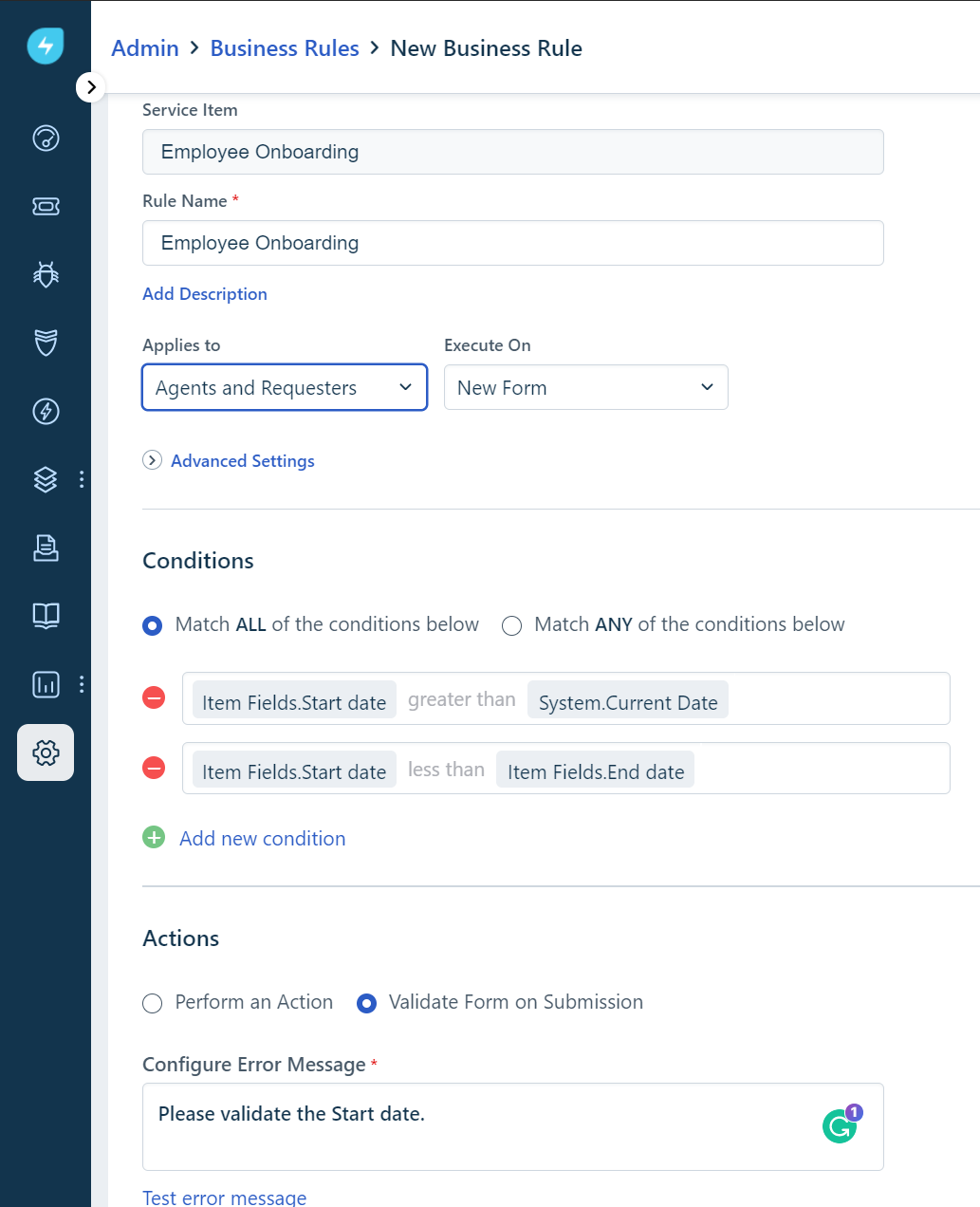 ​
Agent Lookup Fields in Add Note, Assign Agent, Add Watcher Actions in the Workflow:
Add Notes, watcher, and assign agents dynamically in workflow actions by referring to the service item agent lookup fields. 

​

​
Add Tags using Placeholders:
Effectively use placeholders to add tags and categorize your tickets based on ticket properties. Maintain your tags and refer to them from custom objects by using the reader nodes. This can be useful when users need to filter out tickets based on specific service items.

​
Requester, Agent, Request For IDs, Event performing Agent as Placeholders:
Add more context to your email notifications with event-performing agent/requester placeholders. This can be handy when an admin needs to get notified if specific ticket properties like due date, agent groups are modified.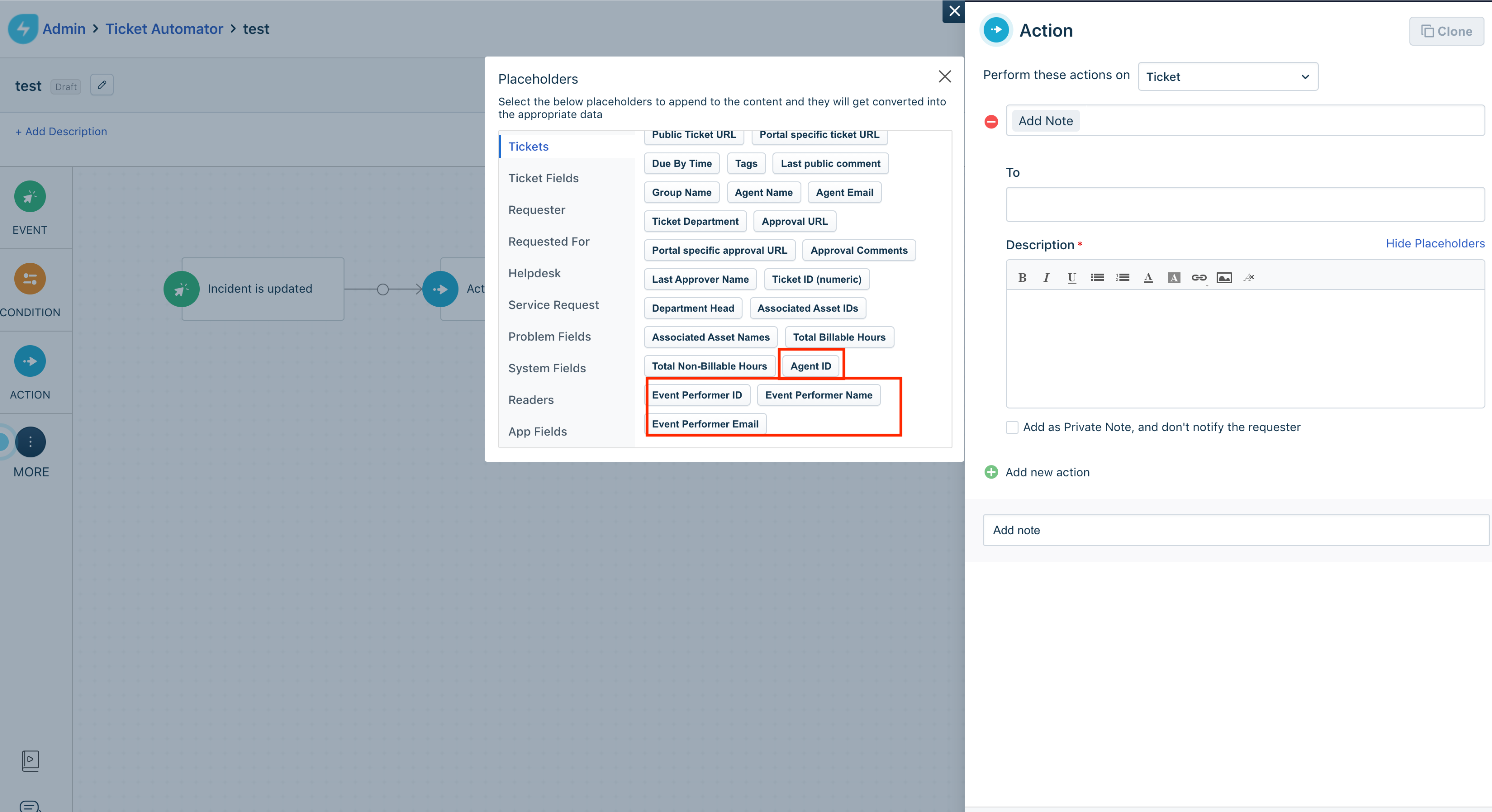 ​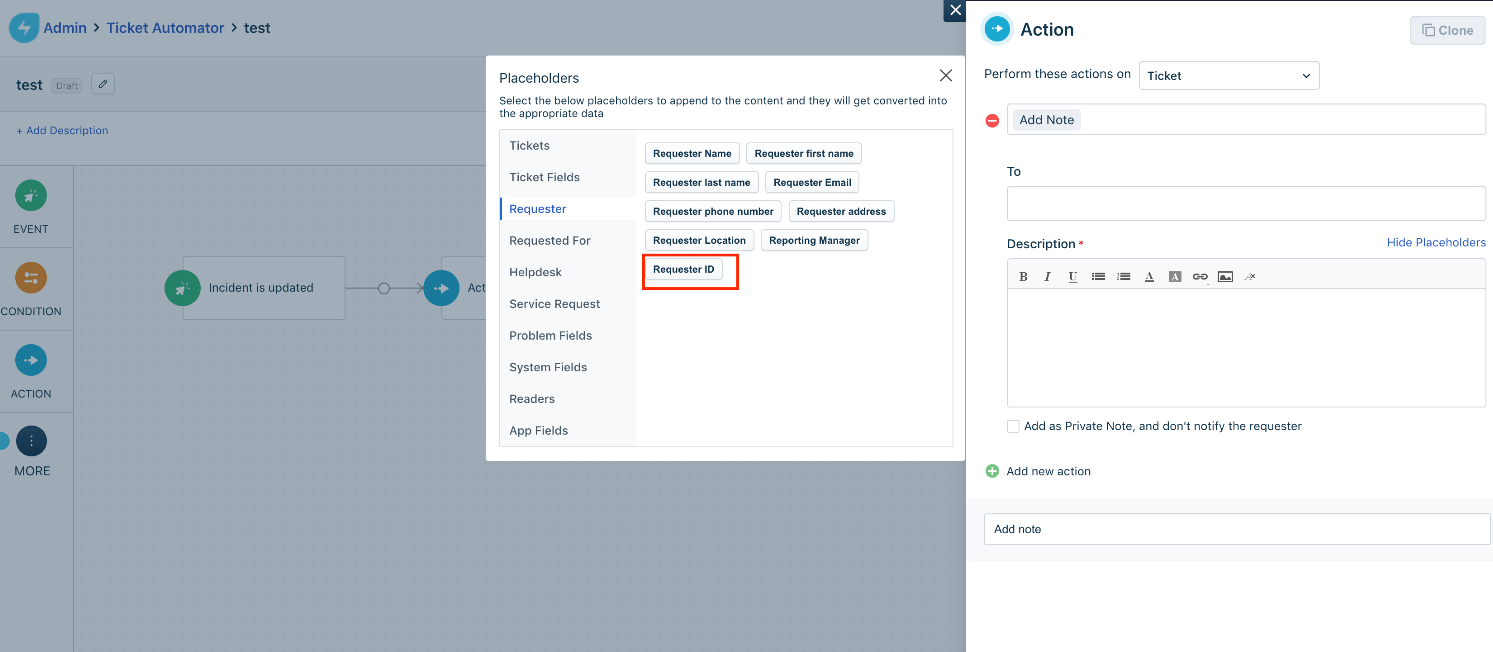 ​
Approval Status for Changes in List View:
Save your time and effort by easily accessing the approval status of any (or all) change tickets. We are adding a new column in the changes list view to show the approval status of the tickets.
Business Rules for Maintenance Window Field:
Admins can configure business rules to mandate/enable/disable/hide/show maintenance window field on change forms
Microsoft OAuth for Custom Mailbox:
For improved email delivery, in-product notifications for mail connection issues, and enhanced security we've updated our custom mailbox with Microsoft OAuth functionality.

More details here
Rename ServiceBot in Microsoft Teams
You can now rename your ServiceBot in Microsoft Teams to match with the name of your service desk. Having a unique and friendly name that your employees can relate to can help in providing a great experience to your employees when they use the ServiceBot for their service requests. More details here
Note: SeviceBot is available for customers in Enterprise Plans only.
Contextual Collaboration for Projects via Slack:
With two-way sync between new-gen project management and Slack, users can now seamlessly collaborate on project tasks from either Slack or Freshservice. Users will be able to create new conversations on project tasks which will be synced into a specific slack channel as threads. Users can also continue these conversations right within Slack which will be synced back into Freshservice.
Note: This feature will be available on July 29th, 2021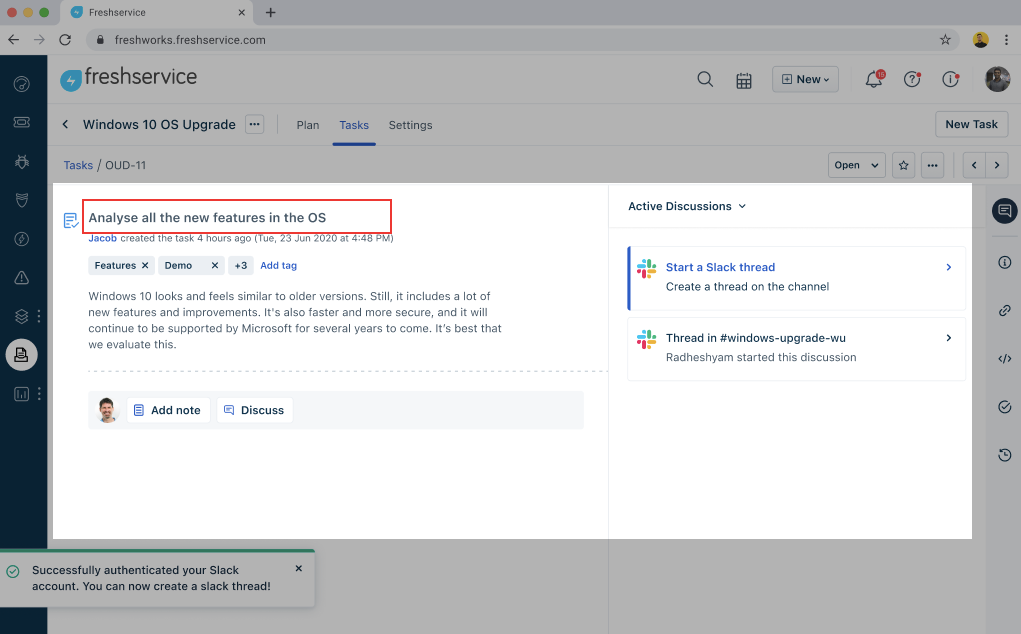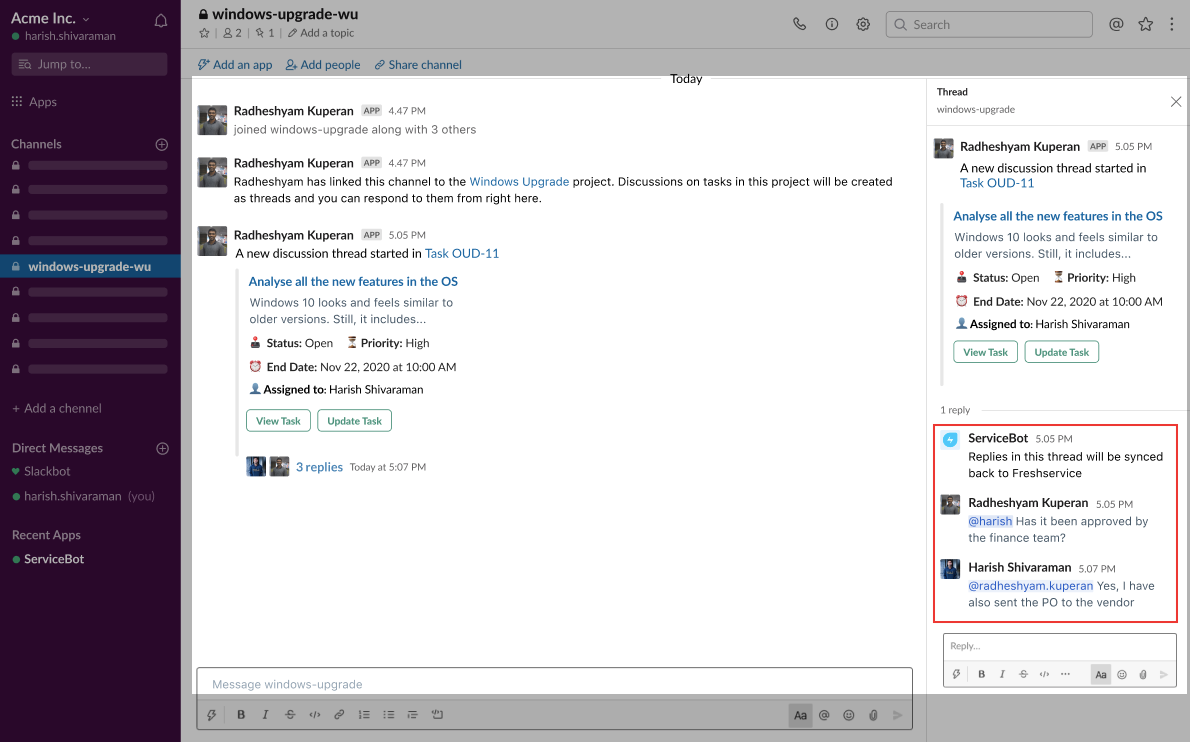 Project Management Settings inside Admin Settings view:
Configure high-level project automation settings from the admin.
Project Integrations: Now you can integrate software development projects with your favorite source control tools such as GitHub & GitLab. Details of code check-ins and pull requests made inside Github or Gitlab repositories by mentioning the specific Freshservice Project Task ID will appear inside the development section of the corresponding project tasks.
Additionally, enabling "Autopilot" mode inside Project settings, users can also automatically move task statuses based on these activities done in connected GitHub or GitLab repositories.
Import from Jira: Import projects and project tasks into the new-gen project management by providing the Jira account URL, admin email details, and admin API key.
Contextual Collaboration: Enable two-way sync between Freshservice projects and Slack to have a contextual and rich discussion about your ongoing tasks and projects. 
Note: This feature will be available on July 29th, 2021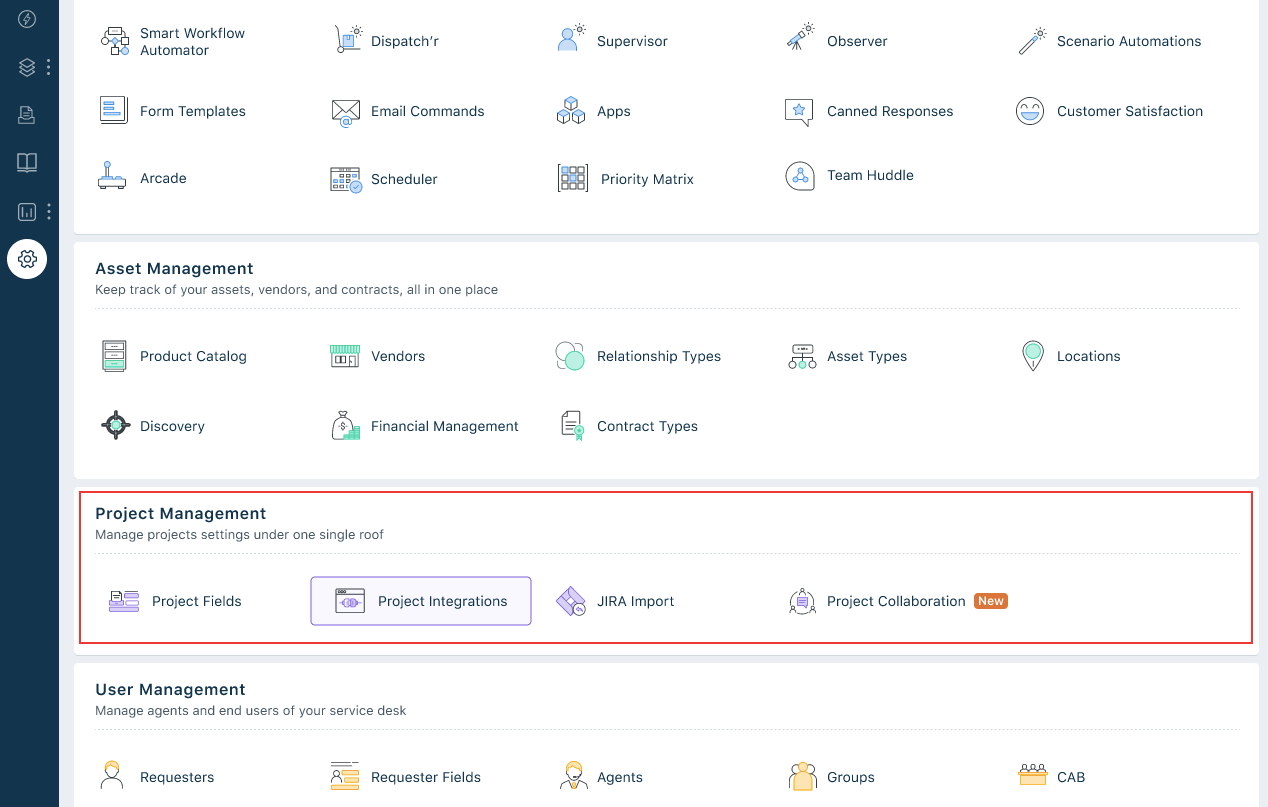 Contract Reports:
Build dashboards in Analytics to get a bird's eye view of all your contracts to manage:
Contract values

Contract expiry timelines

Contract approvals

Associated software, products, and vendors
Note: This feature will be available on August 1st, 2021
More info here
Marketplace App 2.0:
Along with the refreshing new look, we've also tweaked few functionalities with Marketplace 2.0
Now apps can be browsed by categories and users can use the global search to find any app within Freshservice 

Users can now click "Go to developer portal" to create any new custom application

Click the settings icon from the app's main page for Settings, Logs, Uninstall or Update
Asset Discovery tools - Security Updates
What is changing?
To enhance security for your discovery probe and agents, we've rolled out the following changes:

Registration key handling during Agent and Probe installation. 

Sign-in certificate update
The Impact
Discovery Probe v4.6.0 and other older versions will be deprecated on August 15, 2021.

The sign-in certificate for existing probes/ agents will be auto-updated for most of the accounts except - If a system has anti-virus software or firewall installed, the auto-update will be blocked when it is detected as malware. 
Action needed by August 15th, 2021
Please ensure that all your Probe installations are updated to the

latest versions of Discovery Probe and Discovery Agent.
Current versions:
Probe: 4.7.0

Windows Agent 2.9.0

Mac Agent: 4.1.0

Linux Agent: 3.1.0

Ensure that the auto-update of sign-in certificates is not detected as a threat by your anti-virus software and firewalls.

For any new installation of the Agent or the probe, please download a new install file from

Admin -> Discovery -> Agent/Probe.

This new file can then be reused without any issues.
[COMING Next Month] Dashboard Module Updates:
We will soon migrate the dashboard module in Freshservice to a new framework with minor tweaks to our UI components. 
Bug fix:
Change in PDF content-disposition
If you're using Google Chrome, we've made some changes to protect your system from malicious attachments that can attack through the browser. Going forward, any PDF attachments cannot be previewed through the browser but will be downloaded in the system to enhance your security.